Art Show: Wandering Landscapes – Victoria Homewood and Emily Kirby ** 30 Nov – 5 Dec 2021 ** Gallery 40, Brighton
Wandering Landscapes is a joint exhibition by two artists who's distinct yet connected practices respond to the transformative impact of landscape.
Each artist, with their different backgrounds and approach to painting will be using this exhibition as a meditation on their relationship with the natural environment and it's impact on their working practices.
Where the subject matter within each artists work differs, both find a strong commonality within the subject of landscape. That the two artists grew up in Sussex also offers an interesting meeting point for their contemporary and yet, at times, nostalgic paintings.
Preview: Thursday 2 Dec (6-8pm)
Exhibition 30 Nov – 5 Dec 2021
Gallery 40, Brighton BN1 4AQ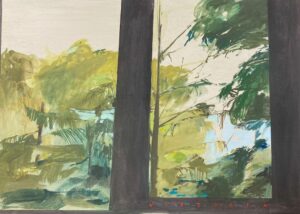 VICTORIA HOMEWOOD
b.1986 in UK, lives and works in Brighton
Victoria's landscapes are painted from life, in plein air amongst the familiar hills of the Sussex Downs where she grew up. Using a traditional palette Homewood attempts to capture the velvety texture of the undulating hills and sprawling off into the distance.
Victoria's studio practice centers around recurring themes of Colonial Architecture, windows, desaturated bleached out tones, colour blocking and negative space. Working from photographs and video loops.
_________________________________________________________________
EMILY KIRBY
b.1981 in Zambia, lives and works in the Brighton
Emily's semi abstracted figures are often placed within scenes of nature. Her paintings are an exploration into colour and form. She uses combinations of layered block colours to form her figures, often sculptural like. Having moved and lived in different countries, including Zambia, Spain, New Zealand and the UK, her works often elicit a distinct sense of place and environment in which her subjects dwell. Emily's work exhibits connectiveness and sensitive appreciation of places she knows well, and frequently returns to in her work.
Emily currently lives in Brighton. Her work has been exhibited internationally with shows in cities including London, Lusaka, Dubai, New York, Prague and Valladolid.
Source: https://www.emilykirby.org/news/gallery-40-brighton/